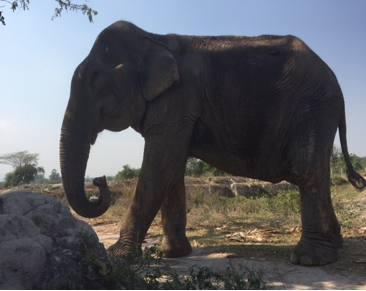 I recently spent a week volunteering at the Wildlife Friends Foundation of Thailand (WFFT) Elephant Refuge and Rescue Center
(EREC). Every morning I'd awaken and outside my window I'd see Boon Mee, which means 'Good Spirit" or 'Virtue,' in her enclosure. Evenings, in the dining area nearby, I'd watch as she disappeared like a shadow into the darkness. Boon Mee is 57 years old, and arrived at EREC in November 2012 from a trekking camp, having spent most of her life giving rides to tourists. She is gentle and friendly toward humans, but as with some of the other elephants at the Sanctuary, during her life in captivity she was isolated from other elephants and must remain by herself. Just as with us, for them socialization is acquired, and the loss of that experience can mean that companionship is stressful more than welcome. And like us, they can react with aggression that is self-protective.
Of the 18 rescued elephants, 17 were female and only one, a two year old who was rescued with her mother, had not experienced abuse, or what others refer to as "training"—to give rides, to beg, to entertain. Activities which are not innate to elephants and which require brutal practices called "Phajaan" meaning the crush, including wresting the young from their mothers, confining them so they're unable to move, and beating them with bull hooks (long wooden handles with pointed metal hooks at the end) where they're most sensitive. The tourism industry relies on these practices in order to offer the rides, and to show off elephants begging in the street.
An elephant's skin is coarse, tough, chewy. Grey-browns, and salmon pink are a result of depigmentation, which may be due to sun exposure, age, or stress. The wrinkly skin, mostly around the hind quarters, looks like a topographical map. Bristly hairs sprout haphazardly, particularly across the upper reaches of the back, and often feather the end of their tails. The trunk has creases or folds along its length, its tip curling readily around a piece of pineapple, or watermelon, or banana, which is then spooned into the mouth. When at rest the trunk can serve as a fifth leg, its tip curled under against the ground. Still. Which is how I'd describe their presence.
Asian elephants are smaller than their African counterparts, and their skin, despite the notable wrinkling, is smoother. There are other differences between them: the backs of Asian elephants are supposed to be rounded, and living in cooler forested areas, they have smaller ears. Many of the elephants I worked with had sway backs as a result of bearing the weight of a heavy saddle and passengers, and severe arthritis, which hurts them as much as it does us. Most had tattered ears, somehow torn over the years that they'd worked in the logging industry, and when that became outlawed, they went to trekking camps—where tourists—up to nine at a time—got to ride them. And they were used for begging in city streets.
I didn't know what to expect when I signed up to volunteer for a week at EREC, other than heat and humidity. How hot and how humid it would be, as I arrived on the cusp of Thailand summer, I was taking a chance on how high the temperatures would go. I didn't know, as someone had told me who'd been there a year earlier, how this would be a life-changing experience, though I suspected he was right. (And, he didn't mean the puppy I'd rescued from the country, Thai-Thai, who arrived three weeks after I'd left the Sanctuary, and who now sits at my feet.)
Nor could I suspect that the essential lessons for me would be about patience and service, through the repetition of the daily activities which involved preparing the elephants' food, cleaning up their enclosures—aka 'composting'—or taking them for walks. Like the day I walked
Chok Dee
, to meet some of the other elephants. Could she be integrated with them or would she have to continue living alone like Boon Mee? Fifty-five years old, her arthritis made it a very slow walk as the day heated up, step by step, minute by minute, climaxing at 95 degrees with 90 percent humidity. For now, she'll continue to live by herself because there was no indication from her or the others that shared space would be better. Solitude is her comfort zone. I'll never forget Chok Dee or the walk, or the picnic we shared later that afternoon, in a patch of shade.
Elephants, I've read are a "keystone species." Other species rely on them for their survival, so that if a keystone species disappears there is a major impact on the entire ecosystem. Asian elephants are endangered, having experienced a 90 percent decline in the last 100 years.
Many years ago I read a book about elephants which I never forgot: learning about their intelligence, about their essentially non-violent matriarchal structure, about their fragile existence because of what we humans have done. I put what I'd read in the back of my mind, knowing that someday, somehow, I'd have to do something. The arrival of that someday, set off by an upcoming significant birthday, told me life was getting too predictable, too safe, and a little selfish. I remembered things I hadn't done in the past because it was easier, and I was determined not to let that happen again. So I signed up to go far away, to test my emotional and physical resources, to imagine a future. I was the oldest volunteer and it didn't matter.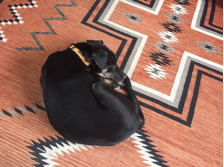 Thai means "freedom," and for the elephants at EREC, the freedom they experience at the Sanctuary is the freedom from abuse and from the labor they've been forced to endure until their rescue. They'll never be able to go into the forests again. I too, experienced freedom at EREC, living in the now as I never had before, as I prepared banana balls—a mixture of bananas mashed by hand (a wonderful slithery feeling), bran, and grain—shoveled compost, and took long slow walks. And then I got to bring an unanticipated new "Freedom" into my life back home, in more ways than one, as the dog I've adopted and named Thai is here with me now.
Donations to EREC, to further their rescue efforts can be made here.